Massage Therapist Laurette Wilvers RMT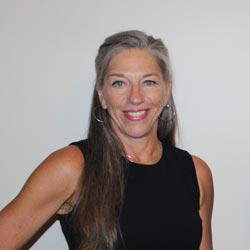 Laurette has been a student of holistic and natural healing, beginning with becoming a Certified Reflexologist in 2001. She embarked on her holistic journey from there, since then took her 200 HR Yoga certification in 2013. She has taken several trainings in yoga, Hatha, Yoga for Pain care, Thrive yoga, Restorative and Yin Yoga. She also became an Access Bars practitioner and completed her Reiki master certification in 2014. She embarked into the massage therapy program and graduated April 2018 with 3000 Advanced Clinical massage therapy certification.
As she continues down this path, her favorite types of massage therapies are therapeutic, relaxation and deep tissue. As she is addicted to certificates, her most recent training was in obtaining her Laser therapy certificate. She pursued this training, after dealing with a shoulder injury for over 2 years, and although there had been some improvement, was still dealing with restrictions. After a Low light therapy treatment, the results she experienced, motivated her to be able to share with her clients.
In her down time, Laurette spends time on her yoga mat and with her 3 grandchildren.