Massage Therapist Laurette Wilvers RMT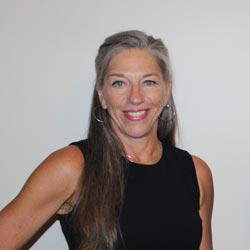 Laurette will soon be a graduate of the 3000 hour Advanced massage therapist program from Makami College. She has been a student of holistic and natural healing, beginning with becoming a Certified Reflexologist in 2001. She embarked on her holistic journey from there, since then took her 200 HR Yoga certification in 2013, became an Access Bars practitioner and completed her Reiki master certification in 2014.
She has taken several trainings in yoga, (Yoga for Pain care/Thrive yoga/Restorative and Yin Yoga) which eventually lead her to Massage therapy. As she continues down this path, her favorite types of massage therapies are therapeutic and deep tissue and will be continuing her education in orthopedic therapies. In her down time, Laurette likes to have her grandkids for sleep overs and chooses to spend time on her yoga mat.