Massage Therapist Tasha Boyd RMT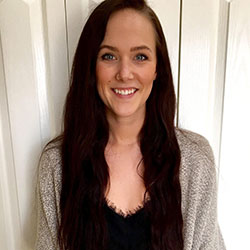 Natasha is a graduate of the Lethbridge College 2200 hour Massage Therapy Diploma. She is a member in good standings of the Massage Therapy Association of Alberta.
Natasha is experienced in treating all cases including: motor vehicle accidents, post operative, repetitive strain injury, pregnancy massage, chronic pain, acute injuries, and sport related injury. In February of 2016, she received her Cupping Massage Certificate that many clients have found beneficial for their treatment results. She specializes in deep tissue, relaxation, trigger point therapy and sport massage.
Natasha was born and raised in Okotoks; she is extremely excited to be back working in the town she calls home. She enjoys staying active by going to the
gym, hiking, taking her dog for walks and playing soccer. Natasha has always had a love for helping people and finds being a massage therapist very rewarding. She is thrilled to be accepting new clients!