Massage Therapy Okotoks
All of the massage therapists at the Alberta Institute for Spine and Sport Therapy are Okotoks RMT's (Registered Massage Therapists)
How Can Massage Therapy Help Me?
Our Okotoks massage therapists are primarily concerned with the health of the soft tissue in the body . It is a hands-on treatment which consists of manual manipulation of the soft tissues such as muscles, joints, tendons, ligaments, and connective tissue. Massage helps restore normal movement and health by releasing trigger points, stimulating blood and lymphatic circulation, removing waste products, and stretching shortened muscles. In addition, because you feel better after a massage, you may discover renewed energy and motivation for physical activity. Think you need more than massage therapy? We have physiotherapy and chiropractic services all under the same roof!
The massage therapists at Alberta Institute for Spine and Sport Therapy specialize in the following:
Therapeutic Massage
Relaxation Massage
Sport-specific Massage
Pre and Post-Natal Massage
All of the massage therapists at the Alberta Institute for Spine and Sport Therapy are RMT's. (Registered Massage Therapists)
Who should consider Massage Therapy?
Massage Therapy is very effect at treating the following:
Muscle Tension
Muscle Shortening
Trigger Points
Poor Circulation
Restricted Movement
Muscle Pain
Edema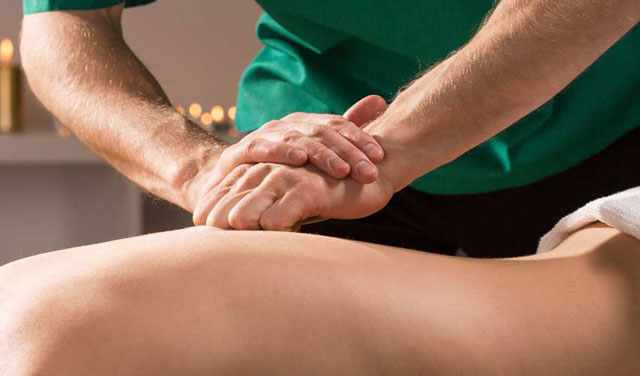 Light Therapy
This technology provides a safe and highly effective non-invasive treatment to relieve pain, increase joint mobility and most importantly, reduce inflammation. In addition, also regenerates the cartilaginous lining of the joints. The light source is placed in contact with the skin allowing the photon energy to penetrate tissue, where it interacts with various intracellular biomolecules resulting in the restoration of normal cell function and enhancement of the body's healing processes. Laser (Light) therapy is a great compliment to other forms of therapy and also very effective as a stand-alone treatment.
This form of treatment is covered through your massage benefits. To inquire if this is for you, please leave a messagefor a free consultation.
Who should consider Light Therapy?
Low Intensity Light therapy is very beneficial for:
Sports & Soft Tissue Injuries
Muscle Shortening
Repetitive Stress Injuries
Arthritic Conditions
Tissue Repair & Wound Healing
MGeneral Problems
Muscle & Joint pain