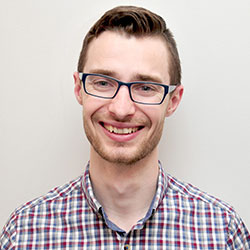 Shaun Turner graduated from the University of Alberta with a Master's of Science in Physical Therapy in 2015 and also holds a Bachelor's of Science in Exercise Science from the University of Lethbridge. He moved to the area with his wife and two kids to become Alberta Institute for Spine and Sport Therapy's first ever physiotherapist.
Prior to studying physical therapy he worked as a Kinesiologist doing exercise therapy for individuals suffering from either acute injury or a motor vehicle accident. As a result of his past experience, exercise therapy has become an important part of his approach to treatment, but his approach is not exclusive to only this. Depending on a person's needs he will often include a combination of treatment techniques such as dry needling, manual therapy, exercise therapy, taping, and various modalities (hot and cold therapy, IFC, ultrasound). He has also done training to help patients suffering from vestibular dysfunction and other sources of dizziness. Some common injuries and areas of the body that he works with include, but are not limited to the following: acute sport injuries, knee pain, ligament and meniscus tears and repairs, knee and hip replacements, hip pain, sciatica, lower back pain, herniated discs, upper back pain, thoracic outlet syndrome, neck pain, whiplash, headaches, rotator cuff tears and repairs, and tennis elbow.
Shaun has a passion for helping people become pain-free and looks forward to helping you get back to doing what you love to do.
Professional Memberships and Associations:
Canadian Physiotherapy Association

Alberta Association of Physiotherapy
"I highly recommend Alberta Sport & Spine!!
Shaun is very knowledgeable and thorough with his treatment process - he helped me turn a corner after years of back discomfort and a recent injury… i really should have done this sooner!! The staff are all very helpful, kind and accommodating.
Thank you all for helping me get back on track!!"